16 July 2021
EMS Magazine, No. 120
Richard Elwes
The latest EMS Magazine - the second edition in its new format - is out now! Click here (or on "Magazine" at the top of the page) to read free online now.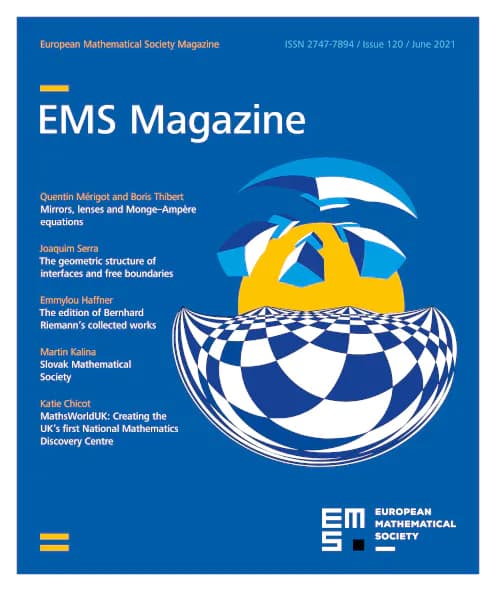 Highlights include:
Emmylou Haffner on Bernhard Riemann's collected works: Then and now - a fascinating illustrated historical account of the editing process
Alexander I. Efimov on Categorical smooth compactifications and neighborhoods of infinity
Joaquim Serra on The geometric structure of interfaces and free boundaries. Plateau's problem, the role of Elliptic PDEs, phase transistions, and beyond.
Quentin Mérigot and Boris Thibert on Mirrors, lenses and Monge–Ampère equations. Is it possible to shape a piece of glass so that it refracts and concentrates sunlight in order to produce a given image? Plus:
Impact factor, an inadequate yardstick
Mathematical (online) meetings reimagined?
The UK's first National Mathematics Discovery Centre
The Weierstrass Institute
The Slovak Mathematical Society
How Romanian mathematicians support Uganda in International Mathematical Olympiads ... and much more!
Tweet
Share